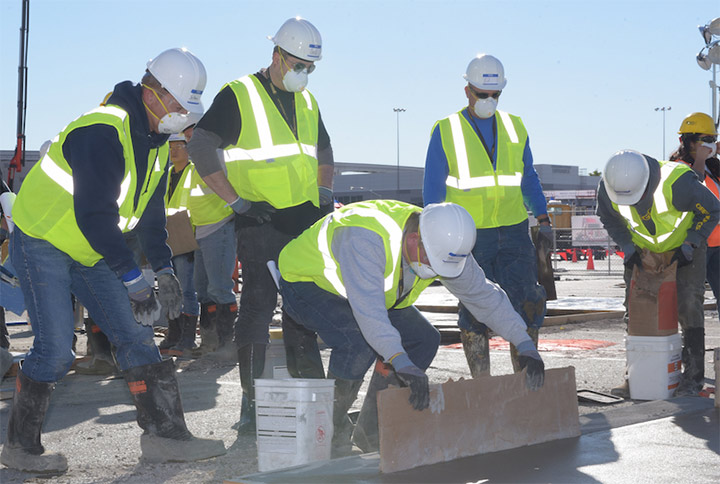 Stepping into 2017, benefited from supply-side structural reforms and in-depth implementation of "One Belt, One Road" Strategy, the investment of the infrastructure industries has continued to grow with brand new opportunities of development. Among them, construction investments in key industries, such as municipal construction, rail transportation, railways, airports and so on accounted for rather a large proportion.
World of Concrete USA (WOC USA), owned and produced by Informa Exhibitions, is the world's largest exhibition in the concrete and masonry construction industries. At the exhibition recently held in Las Vegas from January 17 to 20, 2017, 1,455 companies showcased the latest technologies and products in more than 60,000 net square meters of exhibit space, which attracted 50,770 concrete and masonry professionals
World of Concrete Asia (WOC Asia) will be held at the Shanghai New International Expo Centre (SNIEC) from December 4 to 6, 2017, and will be hosted by Shanghai Yingye Exhibition Co., Ltd., an Informa joint venture. With the strong foundation of the original China Floor Expo (CFE) and China Mortar Expo (CME), WOC Asia will adhere to the concept of the American exhibition brand and broaden the scope of the exhibition with new international elements. We are committed to making it the most influential and professional exhibition for the building materials industry throughout China and Asia.
Recently, Informa Exhibitions and China Council for the Promotion of International Trade, Building Materials Sub-Council (CCPITBM) formally reached a cooperation. CCPITBM will be one of the co-organizers of WOC Asia 2017. Both sides will carry on an all-round cooperation in exhibitor recruitment and exhibition publicity, working together toward the perfect debut of the grand event in the construction industry in China.
Speaking of this cooperation, Wu Xudong, Vice President of CCPITBM stated, "We are very honored to form the partnership with Informa and participate in the preparations for the first WOC Asia. After more than 10 years of hard work, CCPITBM has a wide range of industrial resources in the field of building materials. We believe that through the joint efforts of both sides, this brand new international exhibition will develop into the weather vane of innovation in China 's construction industry."
"As one of the world's premier exhibition hosts, Informa is featured in strong industrial resources and global business networks. For the moment, investments on construction industries in China have been rising steadily. Given to the powerful industrial advantages of CCPITBM, said David Bondi, COO of Informa Asia Pacific, with their participation, we firmly believe that WOC Asia will become a focus of attention in the industry."
The first World of Concrete Asia will be held at Shanghai New International Expo Centre from 4 to 6 December, 2017, covering the 14th Shanghai International Floor Exhibition, 13th Shanghai International Mortar Technology and Equipment Exhibition and 2nd Shanghai International Sports Venues and Facilities Exhibition.
Many global well-known brands have already confirmed to join, such as: Sika – market leader of building chemical products, Universal Polishing Systems – a recognized leader in hybrid resin / diamond polishing pads, Fuzhou Bontai – a professional diamond tools manufacturer, Wacker Chemie – a global leading chemical company, Jiangsu Wolves – pioneer in building equipment and old building reutilization, Havert Technologies – advanced raw materials packaging solutions provider, Guangzhou Supe – high-end floor coatings manufacturer, and Alborg Portland – the only producer of P.W. Grade 52.5 White Cement in China, etc.
About China Council for the Promotion of International Trade, Building Materials Sub-Council
China Council for the Promotion of International Trade, Building Materials Sub-Council (CCPITBM) has been authorized by China Council for the Promotion of International Trade (CCPIT) and State Administration of Building Materials Industry (SABMI) in 1992. CCPITBM is the branch organization of CCPIT and China Chamber of International Commerce (CCOIC) in China's building materials industry, and is the civil organization to carry out foreign economic and trade activities, or to contact with other economic groups or relevant international organizations in China's building materials industry. It is a civil organization which connects with economic and trade circles, chambers of commerce, associations, other economic groups and relevant international organizations from all the countries and regions of the world.
FOR MORE INFORMATION, PLEASE VISIT WWW.CCPITBM.ORG