WOCA will be held at the Shanghai New International Exhibition Center from December 4 to 6, 2017. This will be the first time to display the complete industrial chain of concrete and construction industry domestically. At the same time, there will be abundant fringe programs during the exhibition period.
Only A WEEK to go.
Contact Ms. Rachel Sun for more details or program registration via rachel.sun@informa.com
CONCRETE – Asian Concrete Academy
1.1 Asian Concrete Summit
Organized by Asian Concrete Construction Institute (ACCI), supported by Concrete Branch of the China Construction Industry and Indian Concrete Institute, the summit is to enhance the communications and foster regional co-operation for the development within the Asian counties.
Registration fee: USD 150 or RMB 1,000 per pax for one-day program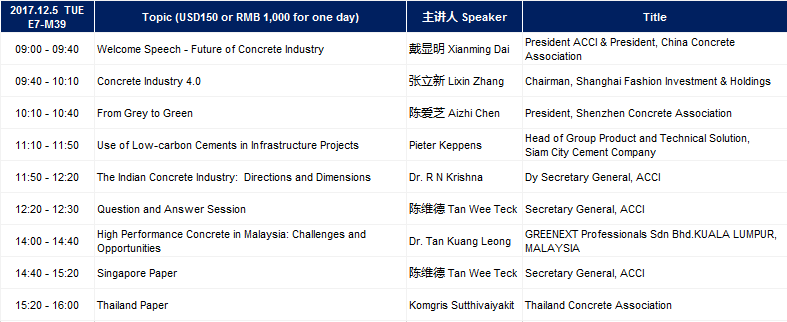 1.2 The latest concrete Development in USA
The experts from USA will bring us the latest topics on various angles of concrete technologies and applications.
Mr. Rick Yelton, Editor at Large, World of Concrete (USA)
Mr. Dean Frank, Precast/Prestressed Concrete Institute, Director Quality Programs
Registration fee: USD 30 or RMB 200 per session (early bird rate)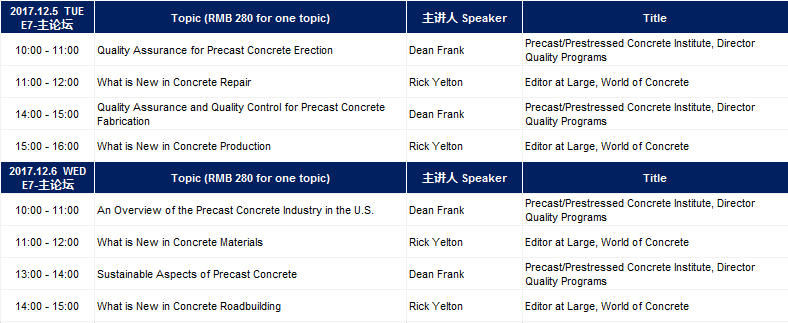 1.3 Technical seminars.

1.4 Moreover, there will be 1 Day Seminar – Concrete Green Production Technology co-organized by ITIBMIC (Institute of Technical Information for Building Materials Industry) and 1 Day Seminar – Application of New Admixture in Concrete Engineering co-organized by CCAA (Concrete Admixture Branch of China Building Materials Federation Building Materials Academy). Details will be announced soon!
2.1 10th Year Anniversary of China Flooring Association and technical seminars

2.2 Round-table Conference on Terrazzo Projects
There will be five terrazzo projects as examples to be shared. According to each project, there will be followed by comments from Xiaoxin Liu, the Chief Expert of CFA.
Registration fee: USD 85 or RMB 560 per pax for half-day program
2.3 Technical seminars

CONSTRUCTION – National Construction Materials Rental Contractor Industry Forum
Two Experts from CMRA (China Construction Material Rental Contractor Association) will give speeches on the safety of professional contractor and legal knowledge of risk prevention and control.

MORTAR – Technical seminars

1 Day Seminar – China Aggregate Market Development Forum
Industry experts invited by China Aggregates Net will analyze the changes of aggregate industry, the manufacturing technique in aggregate industry and so on deeply.

* Above content is updated on November 9th.