WOCA will be held at the Shanghai New International Exhibition Center from December 4 to 6, 2017. This will be the first time to display the complete industrial chain of concrete and construction industry domestically. At the same time, there will be abundant fringe programs during the exhibition period.
The summit is to enhance the communications and foster regional co-operation for the development within the Asian counties.
Organizers: Asian Concrete Construction Institute, Shanghai Yingye Exhibitions Co.,Ltd.
Supporters: Concrete Branch of the China Construction Industry, Indian Concrete Institute
Time: 12.5  9:00 – 16:00     Venue: Conference Room E7-M39     Ticket: RMB 900 per pax one-day program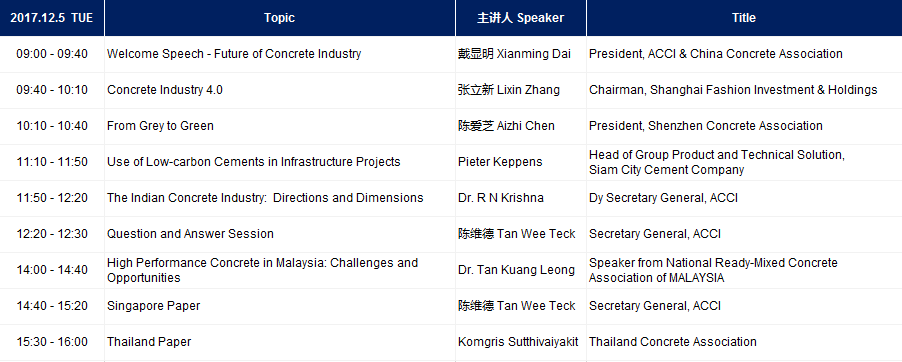 Speaker Profile:

Prof Dai Xianming is President, ACCI. He was elected as President of the China Concrete Association in 1997 with yearly renewals of his term of office. He is the longest serving President in China national construction and related associations. In 2004, he was elected as Vice President of ACCI and in 2014 he was elected as President of ACCI. Prof Dai is the Dy Managing Director of the China North East Design Institute and is also the Chief Editor of China Concrete, the official publication of China Concrete Association. In 2008, he authored the China Concrete 20 Years Yearbook. Besides technical papers, Prof Dai has also delivered many keynote papers on the concrete industry outlook, trends and prospects.
Mr. Tan Wee Teck is Secretary General of ACCI. Amongst his more notable appointments include serving as Head of International Affairs Division of the Singapore Construction Industry Development Board, Director of Contracts, Shanghai Tunnel Engineering Corporation, Singapore; Planning and Programming Engineer with the Singapore Mass Rapid Transit Corporation and General Manager of Spandeck Engineering Singapore Pte Ltd. He also developed several training programmes for the World Bank and the UN Development Programme, to train senior government officials and enterprises from China from 1988 to 1994. Mr. Tan has also presented papers related to construction industry development, joint ventures and construction contracts in more than 10 countries since 1989. He was appointed as a Consultant for construction industry development by the Sri Lanka Institute for Construction Training and Development in 1994, under a World Bank funded Programme. He founded the Asian Concrete Construction Institute in 2001 with a few likeminded friends.
Dr. R N Krishna is Deputy Secretary General, ACCI, and was formerly Secretary General – Indian Concrete Institute. He graduated from IIT(Madras) and Anna University and is a specialist in Concrete Technology/Admixtures/Repair and Restoration with three decades of field experience and Training.
Dr. Tan Kuang Leong is Managing Director at Greenex Consultants / Greenext Professionals, GREENEXT Professionals Sdn Bhd. KUALA LUMPUR, MALAYSIA. His expertise and areas of interest are doing Consultancy, Forensic Engineering, Expert Witness, Assessment, Investigation & Testing Services in related to the building materials mainly on the advanced concrete technology materials. He also initiates the interest in the promoting sustainable environment and construction site management for the green building in Malaysia. He is a professional member of many Malaysia associations. He also participates in Technical Committee of SIRIM on Concrete & Concrete Products, Technical Committee of National Ready-Mixed Committee Malaysia (NRMCA), SAC- SINGLAS Signatories Approval in Civil Engineering such as Harden Concrete, Fresh Concrete & Cement Testing. He is Certified QMS Auditor/Lead Auditor (ISO9001:2008), International Register Certificated Auditors (IRCA), United Kingdom. He has been involved his business in few countries in Asia where mainly in Malaysia, Singapore, and China.
Mr. Pieter G Keppens is Head of Group Product & Technical Solutions, Siam City Cement. He is responsible for Siam City Cement Portfolio of Products and Technical Solutions, from market understanding and innovation up to Value Positioning and Value Selling. From 2015 to 2017, he is responsible for the Readymix Business of Holcim Vietnam – leading readymix supplier in HCMC, offering Innovative Concrete Solutions for efficient and high quality construction, partnering with the leading private contractors in HCMC. From 2008 to 2012, he develop and defend the market position of Holcim Vietnam solutions (cement & concrete) on the South-VietNam market.
*Above content was updated on November 24th.