In recent years, under the influence of factors such as the country's continuous acceleration of the domestic infrastructure construction process and the continuous development of the real estate industry, the domestic commercial concrete industry's application demand for concrete admixtures has continued to expand, and the admixture industry has therefore shown a sustained development trend; and In the future, as my country's economy continues to develop rapidly and the process of urbanization is further accelerated, the development potential of my country's commercial concrete industry is still huge, which will also have a greater positive effect on the development of the domestic concrete admixture industry.
A good brand helps companies stand out in the fierce market competition. Nowadays, the essence of the competition between enterprises and enterprises is the competition between brands and brands. Brands have become a powerful weapon for enterprises to occupy and develop markets. Brands have also become a necessary condition for the development and survival of enterprises. Today, when branding is increasingly important, the concrete admixture industry is no exception.
WOCA international platform helps connect global resources
World of Concrete Asia is the Asian station of the "World of Concrete" series, a well-known exhibition brand in the global concrete industry. It focuses on concrete floor construction and develops into concrete facade construction, including construction raw materials, concrete construction additives, concrete construction equipment, facilities and Building materials and equipment, etc., to create a one-stop exhibition platform for the concrete construction industry, an international and diversified exhibition platform for promoting the green development of the construction concrete industry in Asia.

WOCA World of Concrete Asia and Concrete Admixture Show
Concurrently hold the 2021 China international concrete admixture industry technical forum
November 30, 2021 – December 2 2021
Shanghai New International Expo Center
Organizer: Informa Markets
Co-organizer:Concrete Admixture Branch of China Building Materials Federation
Why WOCA?
Collect a large number of concrete, floor, mortar construction and material business, accurate docking of the target customers of additive enterprises
Attracting quality contractors, construction companies, mixing stations and other links procurement principals from all over the country to visit the site
Effectively link commercial concrete enterprises and clients of major infrastructure projects
The exhibition site face to face with customer decision makers, maximize the effect of business negotiation
More than 300,000 high-quality buyer database, international buyer resources linked with 7 WOC global exhibitions
High-standard platform for enterprise brand establishment and maintenance, help enterprises establish industry image and connect professional contacts
Joint Concrete Admixture Branch of China Building Materials Federation to jointly hold the 2021 China International Concrete Admixtures Industry Technology Forum to help enterprises improve and connect with high-quality guests
Product Category
ordinary superplasticizer, high efficiency superplasticizer, retarder high efficiency superplasticizer, early strength superplasticizer, retarder superplasticizer, pumping agent, accelerating agent, antifreeze agent, expansion agent, waterproofing agent, rust inhibitor, air entrain agent, air entrain agent, colorant…
Exhibitors Category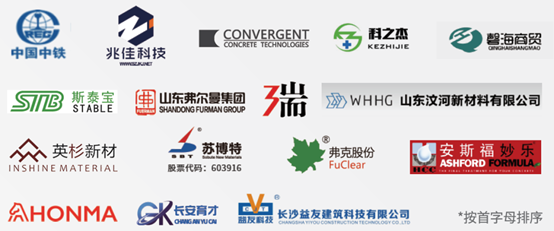 Part of Trade Visitors
Chifeng Zhutai Concrete Mixing Co., Ltd., Fan County Huachang Concrete Co., Ltd., Fujian Hongyuan Concrete Co., Ltd., Hejin Chaohui Concrete Co., Ltd., Henan Province Lele Concrete Co., Ltd., Linyi Jintai Concrete Co., Ltd., Nantong Sanchen Concrete Co., Ltd., Inner Mongolia Hongxingtai Concrete Products Co., Ltd., Inner Mongolia Luyan Shang Concrete Co., Ltd., Qihe County Kangjia Concrete Co., Ltd., Qingtongxia Hengyuan Concrete Industry Co., Ltd., Quanzhou Junpeng Commercial Concrete Co., Ltd., Shandong Zhongwen Concrete Industry Co., Ltd., Shanghai Runwu Concrete Co., Ltd., Shaoyang Zhongchi Commodity Concrete Co., Ltd., Wenzhou Wannian Concrete Co., Ltd., Zhengzhou Zhonghe Concrete Co., Ltd….
Contact us:
021-61577250
info@wocasia.com